Product overview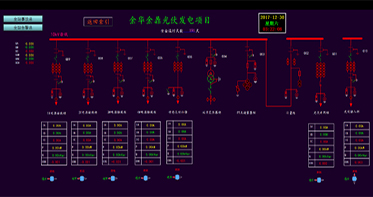 NDW6200 PHOTOVOLTAIC monitoring system is a monitoring system developed for solar energy and wind power generation system with a brand new design idea and a number of new standards and technologies. It mainly covers five types of application functions: data acquisition and control, intelligent TTS voice alarm, intelligent analysis and diagnosis, statistical report, and WEB publishing. Intelligent photovoltaic monitoring system consists of application server, data server, operator workstation, engineer workstation, WEB publishing server and communication acquisition equipment. Through optical fiber or GPRS wireless technology, it can communicate with inverters, converters, photovoltaic arrays, meteorological monitors and other equipment to collect real-time monitoring information data, and can carry out remote control. In addition, it can make real-time online intelligent analysis and diagnosis to find equipment faults, and timely conduct early warning through TTS voice or SMS.
Main Features:
Hybrid platform technology, suitable for Unix/Linux/Windows and other operating systems.
Based on the dual bus design of message bus and service bus, the multi-server application pattern with function distribution is realized.
The system can be classified into different types, levels and responsibility areas for alarm, and supports SMS and telephone voice alarm. TTS voice synthesis technology avoids manual input of alarm voice.
Support a variety of new energy and distributed generation.
Rapid isolation has no impact on the large power grid and ensures the safe and stable operation of photovoltaic power generation.
Can be connected to the grid, off-grid operation, plug and play, seamless switch