Product overview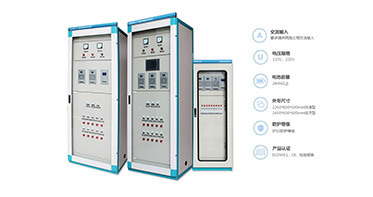 NDW7200 series dc power system is my company and in accordance with the requirements for the design of the new type of complete sets of dc cabinet, technical standards and design be modified to the traditional dc system in the production of a new generation of dc power supply system, especially suitable for large thermal power plants, hydropower station, the auxiliary workshop, small and medium-sized coal-fired power plants, hydropower station, 500 kv and 220 kv substation, some 110 kv and below, and (the) unmanned substations, as control, signal, protection, sports communication and dc lighting required for dc power supply,Also fully applicable to substation, railway, petrochemical, industrial and mining, water conservancy, enterprises and institutions and large building power distribution (such as high-rise buildings), all need DC operation power or emergency DC power occasions.The complete set of devices consists of high-frequency switching power module, microcomputer monitoring device, DC insulation monitoring device or new microcomputer insulation monitoring branch line selection device, flash and signal alarm device, silicon diode voltage regulating device, DC feeder cabinet, battery cabinet and accumulator, with various configuration modes and flexible application.Remote control, telemetry and telemetry interfaces are set up to meet the requirements of unmanned substation and integrated automation system of plant and station.The screen cabinet adopts the design mode of PED, which is easy to use, maintain and replace.
Main functions:
The module adopts imported famous brand IGBT and control chip to ensure reliable product quality and superior performance index.
Comprehensive data monitoring and operation management of the system, monitoring of single battery, battery capacity test, fault alarm record, etc.
Microcomputer monitoring system intelligent design, Chinese liquid crystal display, the whole charging process intelligent, automatic.
All the information of the system is realized through the communication interface, such as remote signaling, telemetry, remote control and other functions, which fully meet the requirements of unattended substation.
With the battery activation discharge circuit in the cabinet, the battery charging and discharging maintenance is convenient, the battery automatically enters the charging state after discharging.
Main Features:
High-power switching power supply charging module, especially suitable for power plants, substations and other occasions requiring high-power output, with small size, light weight and high efficiency.
N+1 parallel operation makes the system simple, reliable, and can be replaced and maintained with a single module.
According to the state of the battery, the charging mode is automatically selected, and the switching of charging, floating charging and mode is carried out, so that the system is always in the best working state.
The voltage regulation of bus adopts diode voltage regulation device, so that the bus voltage stable height, small loss.
The system is a reliable and convenient DC power supply with various control and protection functions.
Advanced structure design, flexible installation of components, easy maintenance.